Masterclass "Morality, society and the fundamentals of leadership" with Adrian Stanciu

06 Feb 2020 @ 6:30 pm

-

8:30 pm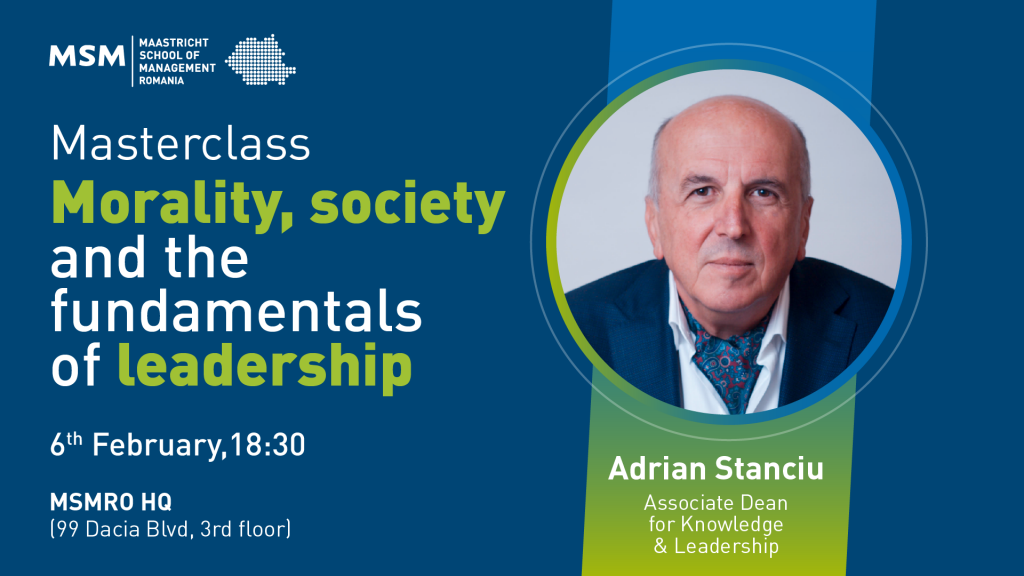 Human groups have always built hierarchies and hierarchies always brought leaders to the front lines. There is an inherent need in this; hierarchical groups have more order and less conflict. However, this model does not, in itself, ensure achievement, the attributes of leadership are very different if you just want the group to live in peace or if you want it to cooperate for a common goal. Humanity's success in history has come not by achieving order, but by cooperation in large groups. Such cooperation requires that members adhere to a common set of values that foster it. It is the role of the leader to identify, defend, educate and support these values and to embed them into the fabric of every day life. Thus, leadership is first and foremost a moral role. This masterclass will explain why this is so, how it works and what are the core values that need to be defended to make cooperation actually work.
About the speaker
Adrian Stanciu is a leading Organizational Development consultant in Romania, specializing in organizational culture management and change. His work touched more than 50 organizations, large and small, in Romania and other countries, and many hundreds of managers and leaders.
Prior to being a consultant, his career included management positions such as Managing director of Xerox Romania, Business Unit director of Xerox CEE and General Manager of Arexim, a Romanian IT systems integrator company that he co-founded and subsequently sold to Xerox Corp.
In the management development field, Adrian has developed and delivered numerous Executive Training programs to customers of various sizes and of various industries, such as IBM, Xerox, Orange, Raiffesen Bank, Citibank, Allianz, Vodafone and many local entrepreneurial companies as well as coaching top executives from various industries. He also consulted a large number of companies and top executives from companies large and small, local and international, such as Banca Transilvania, eMag, Raiffeisen, Deutsche Bank, Romatsa, Cărturești, etc. on subjects related to organisational design and culture.
In the academic field, Adrian has graduated as a MSc in the Bucharest Technical University in 1985. He has taught various subjects in graduate business programs in the Bucharest Technical University, the National School of Political Studies, the Academy of Economic Studies as well as the Change Management course in the University of Ottawa and the Canadian-Romanian MBA, and the OBHRM and Change Management courses for CEU Business School.
Adrian is also a constant voice in the Romanian business press, with more than 70 articles published.
WHERE: MsM Romania HQ, 99 Dacia Blvd, 3rd floor.
Enrolment
To enroll at this MasterClass, please fill in the form below. For more information, please contact us at  +40758.818.158 or [email protected]
This event is free and open to the public.
[contact-form-7 id="3171″ title="Registration Masterclass Morality, society and the fundamentals of leadership with Adrian Stanciu"]